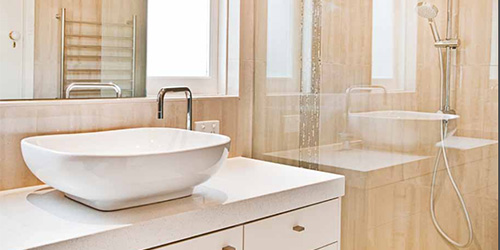 BLK Design is a local business, based in Melbourne and servicing local clients wanting to create a dream bathroom or kitchen area. Specializing in complete bathroom, Ensuite and Laundry renovations. We also do bathroom alterations and bath resurfacing, offering a complete bathroom service. We offer a prompt and efficient quality service to all of our clients. BLK Design can be truly measured by our repeat business and client referral, which we are truly proud of.
BLK Design is fully accredited by the H.I.A Housing Industry Association, the National Kitchen and Bathroom Association, a H.I.A Greensmart Builder and the Master Builders Association.
It all starts and finishes with BLK and our Director Shane, that is, we do the lot… so you are only dealing with us from the plumbing to the electrical wiring, tiling, painting etc. We can supply all the fixtures and fittings too… bath, toilet, basin, bathroom ware, taps… everything, from a wide range of reputable local suppliers.
When your renovation commences we work continuously and exclusively for you. We use extensive cover sheeting and special equipment to protect your floors. Skips are used outside to contain all the old materials. We guarantee the utmost care is taken to assure the cleanliness of your home.
Full supervision and the final inspection is handled by the owner of BLK Design (Shane), who is fully trained in bathroom renovations, a licensed builder and HIA Greensmart accredited. His presence at your renovation and at final inspection can assure you that all renovations are handled with the superior quality in mind, as his reputation depends on it.
We know you will enjoy the BLK Design experience; it is truly time you see it for yourself.